Significant IT Updates That Could Affect Your Business

Microsoft has announced it will end support for Windows 10 on October 14, 2025. This means Microsoft will stop providing security updates and technical support for Windows 10. While this announcement may seem premature for you to act, note that Microsoft has limited Windows 11 compatibility with newer hardware. This is significant because many computers will need to be completely replaced rather than upgraded, unlike past Windows end-of-life experiences.
Also, running an unsupported operating system is a security risk and will result in losing compliance with many standards, such as NIST, HIPPA, and PCI. These standards require that you use up-to-date software to protect your data from cyberattacks. If you're not running Windows 11 or if your system is not compatible with Windows 11, you'll get an annoying pop-up error like the one below, and it won't go away.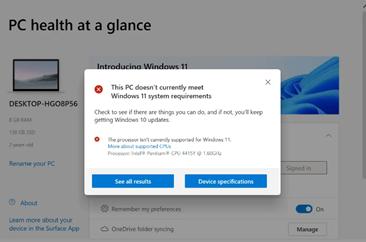 Creative Programs and Systems understands these upgrade cycles can be stressful and confusing. We are here to help you with any questions or concerns. Our experts are available to help plan device upgrades or replacements and migrate your data and applications safely. Preparation is key; the time to start planning and budgeting for this transition is now!
As always, we value your trust and loyalty. We hope to continue serving you with the best solutions for your needs. View additional Microsoft compatibility details here: AMD Based Systems and Intel Based Systems.  
_____________
Founded in 1994, Creative Programs and Systems delivers professional results for all your computer needs. We design, create, and code various custom software programs and websites. Additionally, we offer superior digital marketing services, including enhanced Search Engine Optimization (SEO) and paid advertising. We also repair and support commercial computer infrastructure, build custom systems and servers, and provide secure data backups. Need assistance or want to learn more? Call (810)224-5252 or email info@cpsmi.com us!
Written by the digital marketing team at Creative Programs & Systems: www.cpsmi.com