CPS May Newsletter
05/10/2019
Spring has sprung! This month's newsletter is dedicated to spring maintenance and supporting your local, family owed, one-stop-shops for all your home and business needs.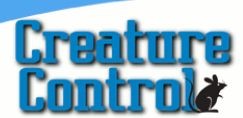 Meet Wildlife Experts, Creature Control
Creature Control, a local and family owned business, are caring professionals who specialize in the humane removal of wildlife, pests, and insects. Services and treatments are preceded by an inspection and tailored to individual needs. They are fully insured, trained, and experienced to look at your home or business from the vantage point of wildlife exclusion. Besides trapping and evicting critters and ridding insects and pests, Creature Control is also a licensed residential builder whom additionally provides wildlife cleanup and damage restoration, mold abatement, pre-sale home and business inspections, bat houses, and carcass removal. Serving residential households, businesses small and large, and government agencies they are truly a one-stop-shop for all your Creature Control needs. Always dependable, with prompt service and 24-hour emergency assistance available, find a location near you.
Partnering with Creature Control since 2014
Like Creature Control, CPS is a local, family owned, one-stop-shop but - for your computer needs. We are honored to have worked with them for an extended period of time, providing their web and IT needs. In 2014, Creature Control was looking for options to improve communication to their technicians and clients. They hired CPS to develop an all-inclusive CRM system that schedules appointments, gathers signatures authorizing work, tracks all chemical usage, provides easy Google Review follow up, and complete FreshBooks integration. With a detailed system in place to guide the company, they found rapid growth and much improved customer service. CPS then added server and computer support to their quickly growing office and networked all their devices to streamline internal work even more.
With an established relationship in place, we were given the opportunity to work with Creature Control in both Michigan and Colorado, to increase their online presence through Google Ads. Paid advertising is a great way to establish yourself as a reputable business online. We restructured their accounts to maximize conversions while prioritizing in-season species with the highest ROI. Using historical data and ongoing research, CPS has increased the performance of their Google Ads significantly increasing their monthly average conversions (qualified leads) from 20 a month to 65. Paid advertising through Google Ads is an important aspect of any online business as the top three ad results are proven to account for over 40% of website visits.
Creature Control operates through much of Michigan and Colorado. Having up to date communication and data is essential to managing a profitable business, along with having the proper online marketing strategy for continued growth. If you see a need to better optimize your business operations, then contact CPS for a free consultation. We offer a wide range of custom software applications, digital marketing, and IT services that we're sure will meet all of your business needs.