Triton Stormwater Solutions
Website Design
&

Software

Triton Stormwater Solutions provides comprehensive underground stormwater chamber management systems. By saving valuable land footprint, their cost-effective and eco-friendly subsurface detention/retention systems address water runoff using ultra-durable yet lightweight materials that are easy to install and maintain.
Our Task
Triton needed a new, responsive website ASAP as their server was failing, and their system was dependent on it. They wanted to mimic their current web design for continuity as many engineers and tradesmen referenced the website to calculate their chamber specifications and review resources. Users had difficulty using the online site calculator and errors were common. They also needed the ability to upload new manuals, brochures, and other media to the website along with CAD and PDF drawings and specs for users to download.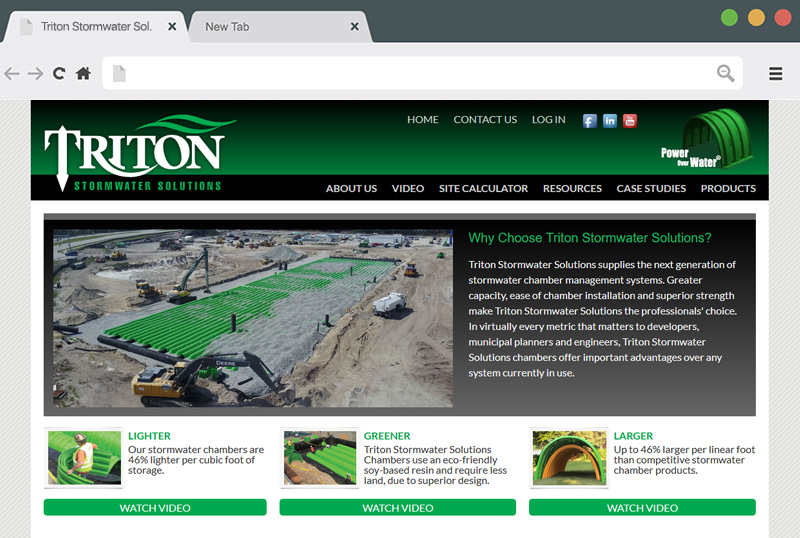 Our Solution
Creating Triton's new, responsive website was fun, yet expanding the calculator functionality was a challenge. With enhanced imagery and videos, we were able to include these throughout the website to help users visualize Triton's patented products. The Product Listing page is organized to give people a quick description of each vault system component and the pertinent installation details. We created an engaging world map to contact Triton's partners and distributors. There was some difficulty with recreating and enhancing their complex calculator to configure wireframes in both English and Metric units. Using PHP and jQuery, we programmed the Chamber Site Calculator and the Vault Site Calculator to render real-time schematics for Triton's state-of-the-art product.
Overall, the website is tidy and easy to navigate, so users can quickly find and view the needed resources. It's embellished with optimized images and animated videos to facilitate the functionality of Triton's stormwater system. A backend panel was created for the admin to edit and update case studies, downloadable files, CAD drawings, and more.
Published Date: January 2019