Barcode Phone App
&

E-Commerce Website

Wash your vehicle every day of the month using the unlimited SpeedyPass plan. Treat your automobile to a good, better, or best car wash daily for one low monthly fee!
Our Task
The owner of Mr. Goffy's Car Wash wanted to expand his business by offering a membership plan that customers could sign up for. Members can pull into any of the three Mr. Goofy locations, get their barcode sticker scanned (to confirm active membership and determine wash level,) and receive a car wash once per day for one monthly fee. Coined the "SpeedyPass Plan," new members would select a wash plan: Good, Better, or Best. Staff register the vehicle and enter the client's credit card information via a mobile device. All data must be processed in real-time to disallow more than one car wash per day, and figures need to be accessible to managers to track members, sales, reports, etc., per location. The owner also wanted a new e-commerce website where customers could purchase merchandise and coupon books online.
The overall goal was to increase sales by enticing members to receive a car wash daily and reduce the wait time in lines. Rather than dealing with cash or credit cards, a direct green light from the barcode scanner would send members through the wash. The app needed to be simple and intuitive for staff and members to use. While admin required a platform to manage SpeedyPass members, the system also had to include time clock functionality for staff and a section in admin to manage employee pay periods. CPS was also charged with obtaining scanner hardware that was durable yet lightweight and water-resistant.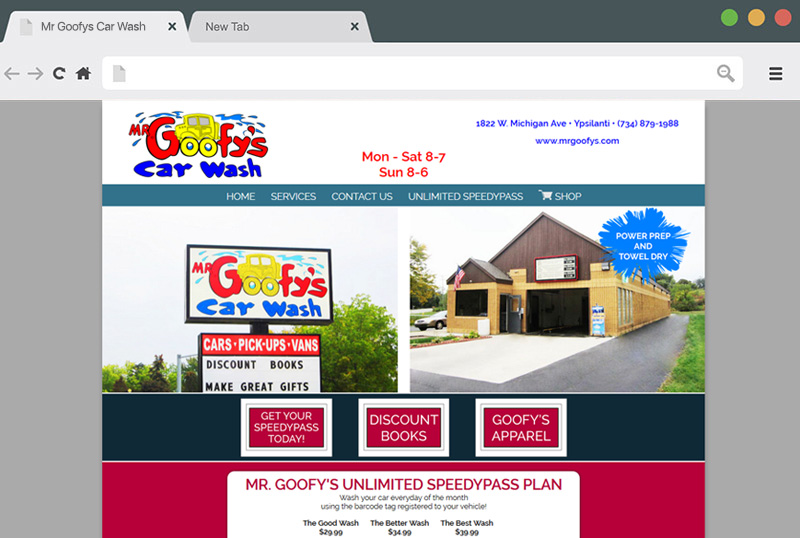 Our Solution
CPS developed a custom software system that fully incorporates an Android touchscreen, a wireless 3D laser barcode scanner with MSR (magnetic swipe reader), an e-commerce website, and a full backend admin panel. The web app is mobile responsive and easy to use, with large, bold touchscreen buttons that are bright in color to help stand out from the sun's rays. The backend has a tiered login allowing entry-level staff, managers, and admins various access levels to view and edit information. Staff can easily process credit cards, sign up and scan SpeedyPass barcodes, clock in/out, reference and edit SpeedyPass memberships, and create reports. The automatic scanners with credit card swipers can photograph vehicles, scan a bar code, swipe a credit card, and enter primary data within this mobile, wireless device.
To sign up a new member:
When customers select a plan, staff will enter standard customer information, including the vehicle's make, model, and color. The employee will take a picture of the car, which is saved in the database and will appear to employees if/when they scan the barcode again to verify membership.
Staff will enter and process the credit card information within the same barcode scanner.
Staff will then scan a barcode sticker which gets assigned to the member's vehicle. Staff place this sticker on the inside windshield
The data from all three locations will sync, in real-time, into the custom CRM/admin panel.
Customers may also sign up for memberships via the new e-commerce website. They can also purchase coupon booklets and merchandise.
The new e-commerce website is mobile responsive and bright to reflect branding. The web layout is easy to navigate and allows the admin to upload products for online sales purchases. The backend database manages everything, from online products, SpeedyPass members, employees, and reports on all three locations separately and simultaneously.
Launched: April 2018