We're

Your

Trusted

Resource for IT Managed Healthcare

Healthcare organizations across the world heavily invest in technology, expecting improved quality of service and reduced costs. Regulatory compliance must be upheld, along with an elevated position in the marketplace. Healthcare management personnel are oftentimes responsible for delivering these aspects of technology in an extensive industry where procedural expectations might conflict. Factors such as cost restrictions, skillset or staffing issues, compliance, and cybersecurity challenges must be considered. Resources and funding are stretched to the max with all of the facets reaching for priority.

At CPS, we aim to ease the hassle of maintaining technology and infrastructure experienced by healthcare professionals and management staff. As a trusted resource, we ensure Healthcare Managed IT Systems are executed efficiently. This proven approach leads to superior services, higher productivity, and reduced operating expenses.
Compare Our Managed IT Services
Break & Fix Support
Repairs as needed (Hourly)

24/7 System Monitoring

×

Remote IT Support

✔

Onsite IT Support

✔

New PC Setup

✔

Vendor Management

✔

IT Documentation

✔

System Updates

✔

Customer Portal

×

Basic Audits

×

System Reports

×
Sign Me Up »
User Managed Services
Proactive Per-User support (Subscription)

24/7 System Monitoring

✔

Remote IT Support

✔

Onsite IT Support

✔

New PC Setup

✔

Vendor Management

✔

IT Documentation

✔

System Updates

✔

Customer Portal

✔

Basic Audits

✔

System Reports

✔
Sign Me Up »
Device Managed Services
Basic Per-Device support (Subscription)
Server Managed Services

24/7 Server Monitoring

✔

Automated Maintenance

✔

Anti-Virus Scans

✔

System Updates

✔

Workstation Managed Services

24/7 System Monitoring

✔

Automated Maintenance

✔

Anti-Virus Scans

✔

System Updates

✔
Sign Me Up »
Infrastructure
Management
IT infrastructure management aims to provide structure and control of the parts responsible for diverse technical operations. This generally involves hardware and software which are both intertwined through physical and virtual environments. Applications, networking components, and computer hardware are the main IT infrastructure management aspects. Services are typically delivered behind the scenes; the technology that supports daily processes such as e-mail, internet, and data accessibility is fully supervised by the CPS team, which relies profoundly on real- or near-real time-management and observational solutions to maintain productivity.
The goal of IT infrastructure management is to minimize downtime and maintain business productivity. IT infrastructure management generally consists of:
Asset Lifecycle

maintaining and managing the lifespan of a project

Capacity Monitoring

dynamic disk management

Planning

systematically aligning the decision-making process for efficient results

Storage

saving your valuable data with encrypted, high-level security

Network Utilization

measuring network traffic by assessing bandwidth

Availability

utilizing the configuration item or service when required

Energy Consumption

gauging the power or energy used

Facilities

effective and efficient management delivery of support services

Physical and Virtual Assets

merging computer hardware with the virtual world

Hardware

providing physical computer parts

Software

updating or installing programs, applications, and software on devices

Security (Virus Protection)

virus removal and tune up services for all computer types - protect your valuable data from malware, ransomware, adware, spyware, etc.

Mobile Connectivity

enabling devices to achieve network connection

Maintenance/Service Updates

diagnosing, updating, repairing, or replacing parts as necessary

Wireless and Wired Network Operations

structuring all types of digital technologies (Wi-Fi, telephones, security systems, intercoms, etc.)

Environmental Issue Management and Prevention

ensuring resources are appraised, protected, remediated, and restored
Our Approach to Information Technology
Assessment
We immerse ourselves to learn and understand your business so we can best implement your project needs and goals.
Strategize
We take all the information you've shared and together we strategize the best plan of action.
Implement
We build and integrate your custom product using proven and reliable technology; keeping you informed of progress along the way.
Support
We continue our partnership with you by maintaining, monitoring, and refining your technology needs as required.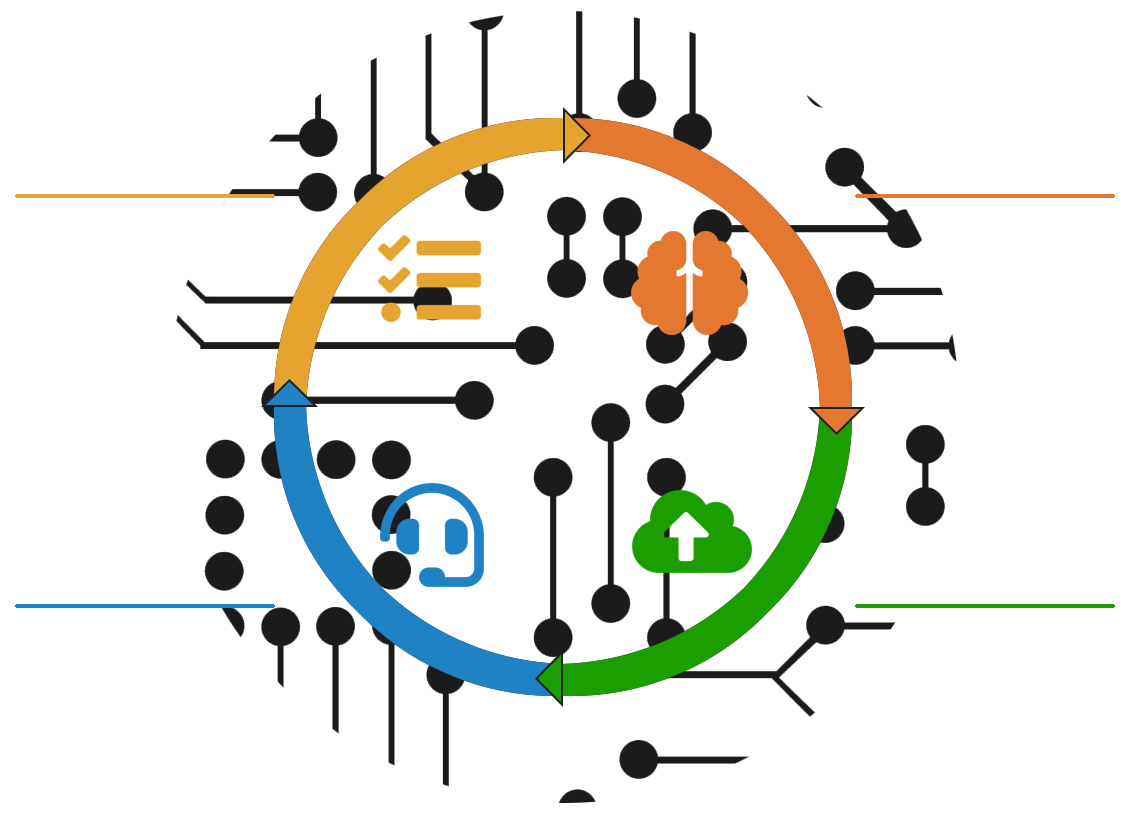 Reviews
2020 has been a crazy year, but CPS was patient with us every step of the way. NCS ended up very busy after launching this project. We were not able to provide the input needed to complete it. Even so, you gracefully nudged and reminded us until we were able to do so. Once you had everything, it was no time before our site was up and running.
Scott Foerster
National Control Systems
CPS became a valued partner investing time and effort to make sure our site was exactly what we wanted and needed. Truly, we can't say enough about the willingness of CPS to be a true partner!
Aaron Brown
They are so helpful and ready to assist you at a moments notice. They helped our company re-create a whole new web page, making it easier for future customers to navigate it and find the information they need. Thanks CPS for your great work and integrity!
Elaine Lane
Great organization if you need help networking your business computers, thinking through security and back up of data. Cheryl Osterman has been a tremendous resource for me.
Melissa Schwartz
We've used CPS for many years for a variety of things, from software design to hardware installation to managing Google AdWords campaigns. Kevin and his team are great to work with. They offer quality service, excellent communication, and reasonable rates. I definitely recommend them.
Phil Campbell
CPS has helped Arise Church with our IT needs for about 10 years. You'll find the people at CPS easy to work with, extremely competent, and best of all, they are trustworthy. They listen to what you need, and don't try to up-sell what you don't need. I recommend them without hesitation.
Arise Church
Great service and I will use them again if I need anyone!!!! Very happy to refer them.
Janeen Guidobono
Really great customer service and truly helpful and wise people!
Ben